ABOUT THE BUILDING
Located in the Union Square shopping and theater district, the iconic 1100 space the Mason O'Farrell Garage is home to five national car rental agencies, two restaurants, specialty retail, and -- of course -- secure 24/7 parking. The Garage offers competitive daily, monthly, and special parking rates for downtown workers.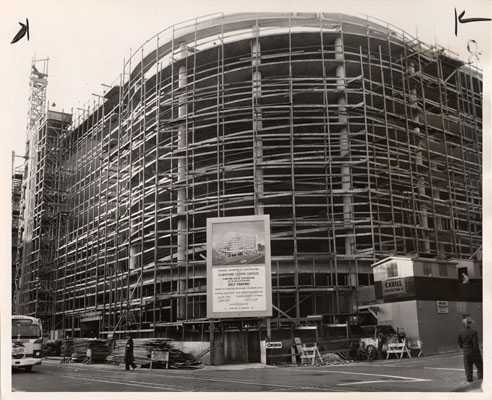 Construction of the Mason O'Farrell Garage in 1955 (Credit:
SF Public Library Archives
)
History
Located at the intersection of San Francisco's Union Square and Theater districts, the Mason O'Farrell Garage is a nine-level, reinforced-concrete parking structure containing approximately 1,000 stalls on 11 levels. Pairs of circular, spiral ramps extend up from the basement to the roof at the southeast corner of the building. The concrete slabs and walls bear the impressions of plywood board forms and the columns of the Sono-tube forms used to create them. The circular ramps are expressed on the exterior of the building as curved and slightly inclined slabs that spiral upward, helix-like, toward the roof. Thin, tubular steel railings wrap around the perimeter of the slabs, providing protection to users as well as a modern decorative motif.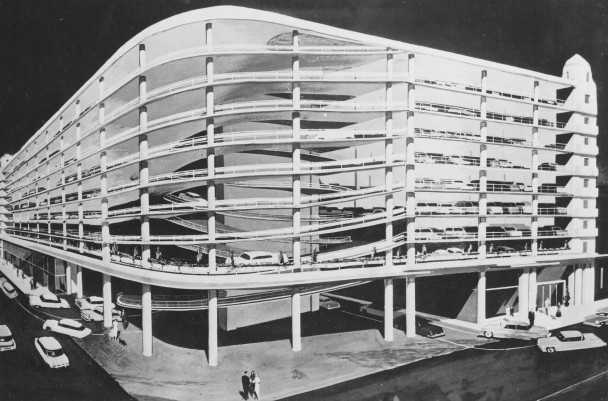 1954 Architectural Rendering (Credit:
Docomomo
)
The Mason O'Farrell Garage (then called the Downtown Center Garage) was constructed at a time when the car was becoming a modern necessity. According to an article in the Architect & Engineer (April 1955), planning studies completed as part of this project indicated that most motorists preferred to park their own vehicle rather than valets. The building was Mason O'Farrell Garage contained 1,200 parking stalls. The only non-parking uses included the lobby and checking stations along the north wall of the building and a service area located on the first floor. The retail storefronts appear to have been inserted sometime in the 1980s.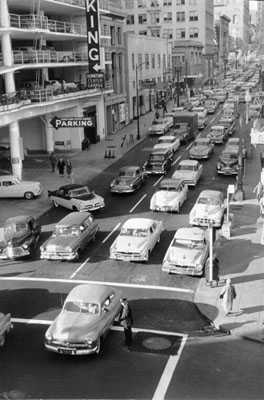 Opening Day November 11, 1955 (Credit:
San Francisco Public Library Archive
)
The Mason O'Farrell Garage stands out from its dense urban surroundings by virtue of its machine-age materials and aesthetics. Its sinewy concrete ramps and slabs, outlined by metal pipe railings, add lightness and grace to a building type typically characterized by brooding dark concrete and a devotion to utility alone. Architectural critic Mitchell Schwarzer says this about the building: "The curve introduced by the spiral ramp adds enough movement to take the composition from simplicity to sublimity."
Source:
http://docomomo-noca.org/buildings/downtown-center-garage/
Quick Links
PHOTO GALLERY